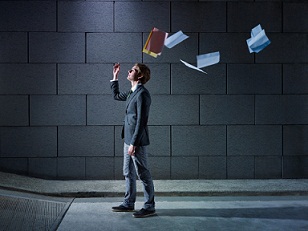 I love it when people ask this question: My upline quit what should I do now? And the reason I love it is because it means there is a leader in the making here! What I mean by that is this,
it so easy for people to just quit their Network Marketing / MLM business when things don't go the way they thought they were going to go or maybe somebody leaves or drops out. It is the ones who stay and work through their "situation" and find ways to make their success happen that end up appearing on the company leader boards in the Network Marketing / MLM Industry.
So let's say that this has happened to you your Network Marketing / MLM upline has decided for whatever reason to quit the business here's what you need to do.
First up you my friend you are a budding leader if you are asking this question! So give yourself a huge pat on the back for that.
Next step contact your next upline leader if you are not sure who that is contact your company head office they will put you in contact with them. Let your this upline leader know who you are and what your goals and aspirations are for your business and ask them if they will support you and how best that can happen. It is vital that you let people know you are ready and willing to grow the business they will help you if they know you are genuine.
If you have no upline close to you or they are in a different time zone to you, perhaps they live on the other side of the globe, find out if there are other distributors for your company that do live close to you. If so contact them and arrange to meet them either in person or by phone and connect with a few people until you find a person you can really relate to and work with them.
If there is no one you can hook up with then you need to step up and really take the bull by the horns and become the leader you were obviously meant to be, and it may be easier than you think. There are some really powerful programmes you can tap into for all sorts of training, people like Todd Falcone or Dani Johnson are excellent trainers in the Network Marketing / MLM Industry they have materials that are easy to access and brilliant to follow .
For the ultimate in connection and community support I highly recommend you check out My Lead System Pro this is the biggest online Network Marketing /MLM 3rd party system in the market place. The team at MLSP provide so much value and support, what they provide can help any serious Network Marketer/MLM'er climb the ladder of success much more quickly than any other system out there! In the back office of MLSP there are literally 100's of hours of training on every aspect of your business and for about $10 for a two week trial of their system you really can't afford not to take a look at it.
If you already have a downline team, it is vital that you lead them and show them how solid and secure you are this will help them grow and it will help them feel secure observing you and listening to what you to say. Get something in place as quickly as you can move on with your business, lots of people quit so your downline need to see that it doesn't mean the end of your business if someone leaves, you just keep going letting nothing stand in your way of rising to your success in Network Marketing/MLM.
Having your upline quit is not the end of the world in fact for a person like you who is searching for solutions rather than complaining about the problem, it is the beginning of some powerful personal development for you, development that will take you all the way to the top of the pay plan if that's where you want to be
So in summary my big message here is if your upline quits connect with someone asap and get yourself a mentor, and remember what doesn't kill you just makes you strong.
Yours in Success
Linda Cargill-Selfe
PS: My upline quit and I found the MLSP system the best in the business take a look at it maybe sing up for the first month and test drive it it will cost you a measly $10 and could help you create a fortune