Justin Bieber tells secret to success in Network Marketing!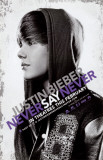 Today I watched a documentary Never say Never and it's all about Justine Bieber a young guy I knew nothing about except that he sings and has a huge following. As the documentary unfolded on the screen I began to realise very quickly exactly why I was watching it.
By the way, I highly recommend that if you have not seen this movie that you get a copy of it and really watch it, because not only
is this guy an amazing young performer what you will discover through the movie is, that he also lives all the success principles that are the foundation of true success.
First and foremost one the most glaringly obvious principles Justin displays is his attitude of gratitude, he openly gives thanks for what he has and for what he is about to have. When you watch him interacting with people his genuine attitude of gratitude is abundantly clear.
Justin has developed exceptional communication skills, he shows a great ability to communicate to all age groups and in all areas of life, including his fans, support staff and crew and his own family and friends, I loved the obvious connection he has with his grandparents.
He sets clear goals, he made it really clear what he wanted to achieve and then just got on with the job of doing everything he could to make those goals a reality giving thanks all the way along.
He had a plan, a well thought through plan and he worked that plan, a plan, to perform to a sell out crowd in Madison Square Garden's and to achieve that within a year. Well not only did he achieve it, when the tickets went on sale they sold out in 22 minutes! Not bad for a kid that no one really knew just one year before!
He prepared for success by learning and practising all the things he needed to know to be the number one ranking singer he is today and hopefully for years to come. Justin is persistent consistent and focused and that message comes through loud and clear and so does his love for life and what he does.
There is also a very strong message that is conveyed through the whole movie and I can think of no better way to share that message with you than to use the lyrics from one of Justin's songs called Never say Never.
See I never thought that I could walk through fire
I never thought that I could take the burn
I never had the strength to take it higher
Until I reached the point of no return
And there's just no turning back
When your heart's under attack
Gonna give everything I have
It's my destiny
I will never say never
(I will fight)
I will fight till forever
(Make it right)
Whenever you knock me down
I will not stay on the ground
Pick it up, pick it up
Pick it up, pick it up
Up, up, up, up, up and never say never
Success in Network Marketing is all about living these principles and putting your effort into the things that will grow your business. If you want a really enjoyable way of learning these success principles and want to watch how someone puts them in to practise, I highly recommend you get this movie and watch it and start putting the same principles to work in your life and watch the growth in your business explode! and learn to say Never say Never!
Yours in Success
Linda Cargill-Selfe
---